Introduction
Maintaining optimal oral health is paramount, and a skilled dentist can be your partner in this journey. In the heart of Dwarka Sector-10, there exists a beacon of dental care excellence – Tirupati Dental . Renowned for its commitment to top-notch dentistry, advanced technology, and a patient-centric approach, Tirupati Dental stands as the undisputed choice for the best dentist in Dwarka Sector-10.
The Foundation of Excellence
Tirupati Dental , situated in the vibrant locality of Dwarka Sector-10, is more than just a dental practice – it's a testament to excellence. Driven by the passion for transforming smiles and enhancing oral health, this clinic has set a benchmark in the field of dentistry.
State-of-the-Art Infrastructure
At the heart of providing exceptional dental care lies the integration of cutting-edge technology. Tirupati Dental boasts state-of-the-art infrastructure, equipped with the latest advancements in dental technology. From digital X-rays that reduce radiation exposure to intraoral cameras that offer real-time insights, every tool is utilized to ensure precise diagnoses and effective treatment plans.
Comprehensive Services Offered
Tirupati Dental takes pride in offering a comprehensive array of dental services that cater to individuals of all ages. From preventive care, restorative procedures, cosmetic dentistry to oral surgery, the clinic covers the entire spectrum of dental needs under one roof. The team's expertise extends to:
Regular Check-ups: Timely dental check-ups are pivotal in preventing oral issues. The clinic's skilled professionals perform thorough examinations, addressing concerns before they escalate.
Cosmetic Dentistry: A confident smile can work wonders. Tirupati Dental specializes in smile makeovers, teeth whitening, veneers, and more, helping patients achieve the smile of their dreams.
Restorative Dentistry: Dental problems can arise unexpectedly. The clinic excels in restorative procedures like dental implants, crowns, bridges, and dentures, ensuring the restoration of both function and aesthetics.
Pediatric Dentistry: Children require a gentle approach. The clinic's pediatric dentistry services create a comfortable and positive environment for young patients, promoting a lifetime of good oral health habits.
Orthodontics: Straightening misaligned teeth is a transformative journey. With advanced orthodontic solutions such as braces and aligners, the clinic helps patients achieve beautifully aligned smiles.
Oral Surgery: Certain conditions necessitate surgical intervention. Tirupati Dental conducts oral surgeries with precision, ensuring minimal discomfort and optimal results.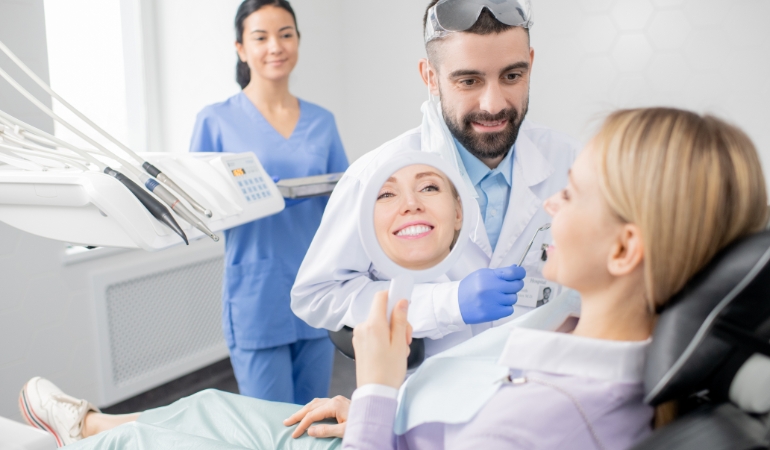 Patient-Centric Approach
What sets Tirupati Dental apart is its unwavering commitment to patients' well-being. The team understands that dental visits can be daunting, and they prioritize creating a soothing and friendly environment. Every treatment plan is tailored to suit individual needs, fostering trust and ensuring a comfortable experience.
Expertise of the Best Dentist in Dwarka Sector-10
The driving force behind Tirupati Dental success is the expertise of its lead dentist, Dr. Priya Sharma. With a remarkable track record and a deep-rooted passion for dentistry, Dr. Sharma has earned the reputation of being the best dentist in Dwarka Sector-10.
Dr. Sharma's journey is marked by continuous learning and staying abreast of the latest advancements in the field. Her commitment to excellence is reflected in her ability to provide personalized treatment plans that prioritize patients' oral health goals. Dr. Sharma's warm demeanor and effective communication further elevate the patient experience, making dental visits stress-free and educational.
Patient Testimonials: A Glimpse of Trust
The credibility of a dental clinic is often best gauged through patient testimonials. The heartwarming stories shared by patients of Tirupati Dental echo the clinic's dedication to quality care. From life-changing smile transformations to painless dental procedures, these testimonials serve as a testament to the clinic's commitment to being the best dentist in Dwarka Sector-10.
Conclusion
Tirupati Dental , situated in Dwarka Sector-10, emerges as the epitome of excellence in the realm of dentistry. With a perfect blend of advanced technology, comprehensive services, a patient-centric approach, and the expertise of the best dentist in Dwarka Sector-10, Dr. Priya Sharma, the clinic offers much more than dental care – it offers smiles, confidence, and a lifelong commitment to oral health. If you seek not just a dentist, but a partner in your oral health journey, Tirupati Dental is the destination to explore.
Choose Tirupati Dental today and experience the transformation of your smile, the enhancement of your oral health, and the embrace of dental care par excellence in Dwarka Sector-10