Introduction
In the bustling neighborhood of Dwarka Sector-8, a beacon of exceptional dental care shines brightly – Tirupati Dental . Renowned as the best dentist in Dwarka Sector-8, this clinic has set a remarkable benchmark in providing comprehensive and top-notch dental services. With a commitment to oral health and a mission to create beautiful smiles, Tirupati Dental stands as a paragon of excellence in the field of dentistry.
A Legacy of Excellence
Tirupati Dental journey began with a vision to revolutionize dental care in Dwarka Sector-8. Established years ago, the clinic has consistently upheld its reputation as the best dentist in the area through unwavering dedication to patient well-being and advanced dental practices. Led by a team of highly skilled and experienced dental professionals, the clinic has become a trusted name for families seeking superior dental care.
Comprehensive Dental Services
What sets Tirupati Dental apart as the best dentist in Dwarka Sector-8 is its wide array of comprehensive dental services. From routine check-ups to complex procedures, the clinic offers a holistic approach to oral health. Some of their key services include:
Dental Check-ups and Cleanings: Regular preventive care is the cornerstone of good oral health. The clinic's expert dentists perform thorough check-ups and cleanings, ensuring early detection of any potential issues.
Cosmetic Dentistry: Tirupati Dental understands the importance of a confident smile. With services like teeth whitening, veneers, and smile makeovers, they help patients achieve the smiles they've always dreamed of.
Orthodontics: For those seeking alignment and correction of their teeth, the clinic provides advanced orthodontic solutions including braces and Invisalign, tailored to individual needs.
Restorative Dentistry: From dental implants to crowns and bridges, the clinic excels in restoring both the function and aesthetics of patients' teeth.
Pediatric Dentistry: Ensuring that even the youngest smiles receive the best care, Tirupati Dental offers specialized services for children, making dental visits a comfortable and enjoyable experience.
Periodontal Care: Recognizing the significance of gum health, the clinic provides effective treatments for gum diseases, ensuring a strong foundation for overall oral health.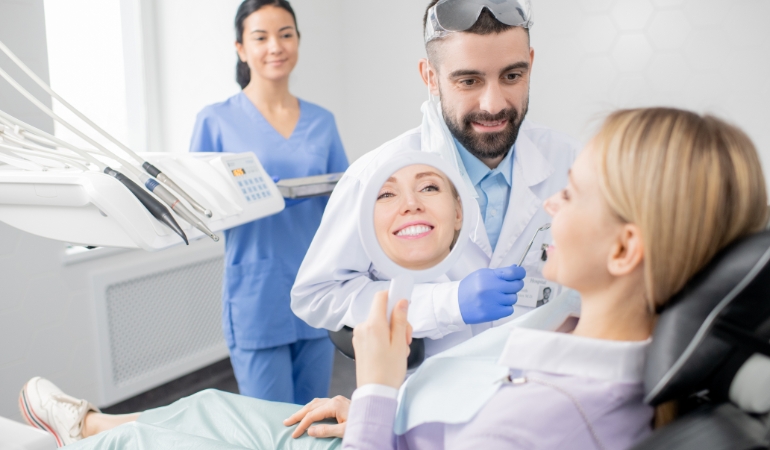 State-of-the-Art Technology
The clinic's commitment to excellence is evident in its integration of cutting-edge dental technology. By staying updated with the latest advancements, Tirupati Dental ensures that patients receive treatments that are efficient, precise, and comfortable. This dedication to staying at the forefront of dental technology contributes to their status as the best dentist in Dwarka Sector-8.
Patient-Centric Approach
Tirupati Dental success as the best dentist in the region is deeply rooted in its patient-centric approach. Every patient is treated with utmost care and respect, and the clinic prioritizes clear communication, ensuring that patients are well-informed about their treatments and procedures. This approach fosters trust and establishes a strong bond between the clinic and its patients.
Expert and Compassionate Team
Behind every successful dental clinic is a team of dedicated professionals. Tirupati Dental boasts a team of expert dentists, dental hygienists, and support staff who work harmoniously to create a warm and welcoming environment. Their expertise, combined with genuine compassion, ensures that every patient's visit is not just about treatment, but about experiencing dental care of the highest quality.
Patient Testimonials
The reputation of being the best dentist in Dwarka Sector-8 is further solidified by the glowing testimonials from satisfied patients. Many individuals have shared their positive experiences, praising the clinic's professionalism, personalized care, and transformative results. These testimonials stand as a testament to Tirupati Dental unwavering commitment to patient satisfaction.
Community Engagement and Education
Tirupati Dental goes beyond offering dental services by actively engaging with the community. Through educational seminars, workshops, and awareness campaigns, the clinic strives to spread knowledge about oral hygiene and the importance of regular dental check-ups. This community-centric approach showcases the clinic's dedication to the well-being of not just individual patients, but the community as a whole.
Conclusion
In the heart of Dwarka Sector-8, Tirupati Dental shines as the best dentist and a beacon of exceptional dental care. With its legacy of excellence, state-of-the-art technology, patient-centric approach, and a team of skilled professionals, the clinic continues to transform smiles and lives. As they march forward on their journey to promote oral health and create beautiful smiles, Tirupati Dental remains a true inspiration in the realm of dentistry.